{service.name}
Welcome to A Dog's Life, LLC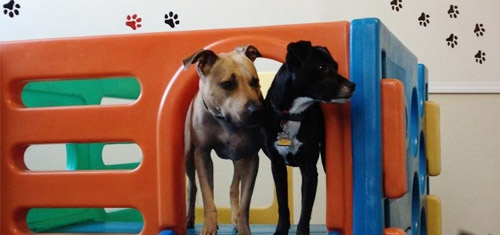 Daycare
**We work hard to build our pack; and dogs thrive in a familiar pack. Because of this we cannot accept "one time only" daycare or boarding requests. We will only accept requests for dogs who will become part of a Dog's Life Family. **
**Your dog must able to attend two days of daycare per week on a regular basis to participate in our program.**
**Currently we are not accepting new customers that weigh over 65 lbs, or will be that size when full grown.**
How We Are Different
At A Dog's Life, LLC, we strive to improve and strengthen the relationship between you and your dog. Our day is structured with playtime, outdoor potty breaks, and a 90 minute nap from 12:00-1:30. Belly rubs are always included!
We practice a sit-stay with your dog upon arrival, departure, and during bathroom breaks. Our staff loves to reinforce any positive behavior you are working on at home, just let us know how we can help!
Daycare attendees get an outdoor bathroom break every 90 minutes, or every 45 minutes for puppies or other dogs that need to go more frequently. This helps reduce the amount of accidents inside, helps potty train puppies faster, and allows the staff more time to play with the dogs rather than cleaning up messes.
We care about your dog's experience. Some dogs may not warm up to daycare right away, so we will give you honest feedback on how your dog is doing. For shy dogs we may suggest arriving earlier in the morning when there are fewer dogs, or trying a specific day of the week that may have lower attendance.
Daycare, with its socialization, is only a small part of your dog's needs. Proper food, supplements, toys, training, vet care, grooming, etc, also play a big part. Although we only offer some of the products and services you may need, we are happy to recommend products and services we do not offer. Again, it is all about helping you to have a happy, healthy, well-adjusted dog.
New Customers
Before an assessment is scheduled, we will need proof of rabies, distemper, and bordatella (kennel cough) vaccinations on file, as well as a negative fecal report including giardia from within the last six months. Please keep in mind that vaccinations must be given at least seven days before the scheduled assessment.
We are frequently reaching capacity on several days of the week. It is because of this that we have restructured our evaluation process so that we can ensure that the new dogs we are able to accept are a great match for our existing group.
In order to make sure your dog will get along with our existing pack, it is important to perform a thorough behavioral evaluation. For the price of a day of daycare, we invite your dog to join us in the morning to begin their first day. When you drop your dog off for their appointment, please plan to spend at least fifteen minutes with us to review paperwork and to help us get to know your dog a bit better.
During the evaluation, we will introduce your dog to several members of our pack one at a time in a separate area. If the introductions go well, we will move the group to an appropriate playroom to continue the evaluation.
If the morning has gone well, or if there are a few more aspects of your dog's personality we'd like to evaluate, we will request to keep them for the full day. There is always the possibility that it will be clear early on that our daycare is not a good option for your dog. If this is the case, you will be asked to pick them up early so that they do not have to spend the rest of their day being separated from the other dogs.
There are three possible outcomes from the initial evaluation: pass, fail, and needs work. If your dog passes or is deemed to need work, they are invited to take part in our five day trial described below. If your dog fails, that does not mean your dog is a bad dog! It simply means that our daycare is not a good option for your dog. This is in their best interest, and in the best interest of the dogs already accepted. Reasons for failure could be for tendencies toward aggressive behavior, excessive fear and anxiety in a crate and/or the playroom, resource guarding, extreme leash reactivity, or any shade of grey in between. We want to make sure that everyone benefits when we add a new dog to our group.
If your dog is invited to take part in our five day trial, they are welcome to come for five scheduled full days of daycare. During each visit, we will continue to evaluate your dog to make sure they are benefiting from our services. Each day will be paid for separately, and a brief update will be given at pick-up. Keep in mind that A Dog's Life reserves the right to dismiss a dog for any reason before the five day trial is over. If by the end of the five day trial their behavior continues to improve and be appropriate for daycare, you are welcome to use our services as needed, as well as benefit from the discounts offered through our Daycare Pass Packages.
Please remember that we do not accept walk-ins. It is recommended that you schedule these trial appointments and any possible future appointments with as much advance notice as possible so that we can accommodate your needs.
Requirements
All Dogs must meet the following before any temperament testing is done:
Who can attend daycare?
• Dogs that are 7 months or older (must have all three rounds of vaccinations) **Under 7 months, call for details on our puppy daycare**
• All dogs must be spayed or neutered (no exceptions )**Please call for details on our new Puppy Daycare Program for pups under 16 weeks.
• Dogs that are well-socialized with both people and other dogs
• Dogs in good health (no communicable illnesses within the past 30 days)
• Dogs free of fleas and ticks and those on a flea/tick prevention program
• Dogs that have passed our initial behavioral evaluation (any dog may be asked to leave for any behavior deemed inappropriate at any time)
Not all dogs are compatible with the daycare setting. To ensure a positive environment for all involved, some dogs may not be admitted to daycare immediately. Instead, a transition period may be needed. For these dogs we offer private socialization lessons.
What We Need From You
• A completed and signed enrollment form and service contract
• Proof of current vaccinations including rabies, distemper, and bordatella
• A negative fecal report including giardia from within the last six months
• All dogs must wear a quick release collar with identification
All records must be sent to A Dog's Life, LLC before an evaluation can be scheduled. These can be sent via fax at 203-624-0478, or via email to info@adogslifect.com.
Daycare Rates (prices do not include tax)
Full Day (7am to 7pm Monday through Friday, 8am to 5pm on Saturday)
New Dog Trial Period $38.00 (must attend 6 sessions)
Single Pass $35.00
Coupon Book: 5 days $165.00
Coupon Book: 10 days $310.00
Coupon Book: 20 days $580.00

Half Day (7am to 1pm Monday through Friday, 8am to 12:30pm on Saturday) No PM Half Days
Single Pass $24.00
Coupon Book: 5 days $115.00
Puppy Daycare Tuesdays and Thursdays: $45.00
Unaltered (Male Only) Daycare: $45.00
Coupon books expire 5 months after date of purchase, and cannot be transferred or refunded
Early Drop Off $10.00: For those who need to be at work before we open. By appointment only we can accept dogs at 6:30am SHARP.
Late Pick Up $15.00: For those running late and cannot get here for closing. If you call and let us know we can stay until 7:30pm. After 7:30pm your dog will board for the night and we will select a small bag of food from the store for their dinner and breakfast. Cost will be one night boarding and the retail price of the food.
Extras
Frosty Paws Snack $3.00
Organic Peanut Butter Stuffed Kong $3.00
15 min walk $8.00
30 min walk $14.00
60 min walk $20.00
Raw Marrow Bone Sm $2.99
Raw Marrow Bone Med $4.99
Raw Marrow Bone Lrg $6.99
*Private Play Time 15 mins $8.00
*Private Play Time 30 mins $14.00
*(used for one on one toy play or snuggle time)
Desensitization Training
This can be added on to Full Day Daycare or a Boarding Stay.
$120.00 for six sessions. Each session is conducted in 3 times a day for 5 minutes.
Must attend daycare a minimum of twice a week to see results.
Topics Trained: Muzzle Wearing, Nail Dremeling and Brushing
Cancellation Policy
A no-show or cancellation with less than 24 hours' notice for Daycare will result in a fee of 50% of the cost of the service (e.g., the fee associated with a no-show for a full single day of daycare is $16.00)
Special Offers
Coupons and other special offers. Click the Button below to view all of our offers!
View all Offers
We are constantly adding new specials to our site. Be sure to check back often!
About us
A Dog's Life, LLC is New Haven's premier doggie daycare. Our 5,000 sq foot facility has an indoor playground, outdoor bathroom area, and kennels for overnight guests. In our lobby is a pet supply shop which features healthy, natural, organic, and holistic options for your dog or cat.